It's been a little over a week since I left South Africa, and I'm at the crucial equilibrium of no longer being jet lagged and still remembering every detail. The trip lasted a total of 16 days, including travel days, and we split our time between Johannesburg (4 days) and Cape Town (9 days). Those 16 days were the best two weeks of my life. South Africa is a beautiful and dynamic country, and being there for the first African-hosted World Cup was an electrifying experience. I'm not going to give a minute-by-minute rundown of the trip because frankly I think that's pretty boring and wouldn't fulfill the dheerja.com company priorities - I serve the people. (Cue snide remark about my blog being boring. Go ahead, I can take it.) If you've read any of this site you know how much I love my lists, so here's a list of things I learned in South Africa. Enjoy!
1) The World Cup brings together a pretty awesome collection of people
Soccer fans are fun and a little crazy. Soccer fans who travel to the World Cup are rowdy and pretty much insane. Soccer fans who travel all the way to South Africa for the World Cup? Absolute mayhem. It's the kind of atmosphere where you love your team and love everyone else around you. You make friends from all over the world - Europe, South America, Australia, America, Mexico...and every person you meet has a crazy story and a fun-loving personality to go with it. Best story we heard? Meet Ian, a quiet British kid staying in a tent outside our hostel. On the way to dinner we're all talking about our lives, our jobs, where we're from, etc. A good 45 minutes into the conversation we finally learn that Ian spent the past 365 days biking from England to Cape Town. Yes, biking. Oh and he made a pit stop along the way to climb Mount Kilimanjaro. At some point in the Sahara he ran out of water and didn't think he would make it, until he came across a group of nomads who took him to a Moroccan army base. If that kid doesn't have a blog I'm quitting. Our other favorite encounter was with some boisterous Germans after Germany vs. Ghana. The story begins with Craig, who has a strange fascination with the German national anthem, and spent a good amount of time coming up with his personal version (part 1). When we ran into these Deutschland fans we immediately begged them to teach Craig the anthem so we wouldn't have to hear "Volkswageeeen" any longer. They happily agreed (part 2). To complete the cultural exchange they surprised us with a German accented rendition of Take Me Out to the Ballgame (part 3). Trust me, you want to watch this video.
2) South Africans love their meat
The first word I learned was
braai
, the Afrikaans term for barbecue. I learned it before I learned how to say "Where's the bathroom?", because braai is significantly more important than any essential bodily function. South Africans barbecue an average of three times a week, so all you grill-crazy Americans are officially owned. Factor in that they can barbecue through the winter AND have ostrich, kudu, and all sorts of game available...you can just give up now. We had our braai experience at Mzoli's outside of Cape Town where you order meat by the pound, wait two hours for it to cook while you drink at the beer garden, and then devour it caveman style.
3) Soccer City owns Cowboys Stadium
Step aside Jerry Jones, Cowboys stadium might be snazzy but nothing beats the aesthetic beauty of Soccer City. You can see the stadium from all over Johannesburg and it catches your breath every time. Designed to look like an African pot, it seats almost 85,000 fans. I've never seen anything like it in the US, where all the focus is on giant flat screens and high priced club seats. We watched Germany vs. Ghana here and there wasn't a bad seat in the house.
4) Sharks look like stuffed animals
Seal Island, home to 60,000 Cape Fur Seals, and Dyer Island, home to thousands of African Penguins, form the shallow channel called Shark Alley off the coast of Gansbaai. Shark Alley is home to the highest concentration of Great White sharks in the world...hello Shark Week. We went shark cage diving with Brian McFarland, a shark hunter turned researcher when hunting was outlawed, and it was easily the coolest thing I've ever done. The sharks were surprisingly not terrifying at all, and I'm pretty sure it had to do with the complete lack of movement in their eyes (they're almost blind), so they looked like giant stuffed animals. They were pretty nonthreatening and could have easily bitten off a foot or hand since we were holding on to the cage bars. Here are a couple pics, keep in mind my underwater disposable camera had no zoom...
5) The world is scared of the potential in US soccer
One of my new-found Brazilian friends put it perfectly after the US lost to Ghana: "You Americans use a bazooka to kill a fly." If the US devotes itself to soccer similar to football, baseball, and basketball, we WILL dominate. The amount of money and athletic talent in this country is unparalleled, and so much of it is wasted in the NBA and NFL funnel. If you take half the kids whose football and basketball careers end in college and put them into soccer from the get-go, America will be at the forefront of the international scene and will internally develop the sport itself to another level. It's already there at the grassroots level, almost every kid growing up plays soccer for a few years, there's just no incentive to keep at it. The soccer market needs to grow significantly, and it probably won't happen after this World Cup. But the US team is only going to get better, they just need some young talent to fill a couple roster holes, and the time will come when Brazil 2014 hits. The entire world knows it, I had countless conversations with people from Europe, South America, Africa, etc. about this topic, and they're all nervously anticipating the inevitable rise of American soccer.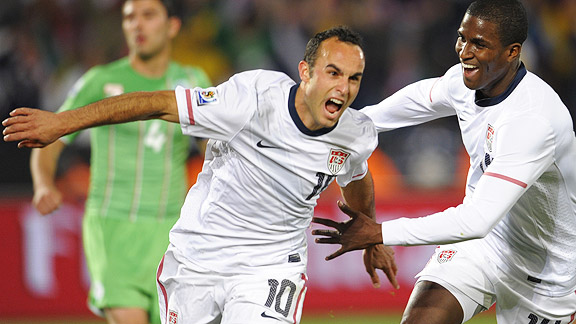 6) It's a rude awakening each time you realize how recently apartheid ended
On our way to Soweto we drove by the prison in downtown Johannesburg. Our driver shuddered, "I hate that place. So many bad memories." We asked why. "I was imprisoned there for a year." We asked why. He proceeded to tell us a story about his teenage self playing soccer in the park with some friends when cops walked over demanding to see their identity cards, a regulation under apartheid that specified an individual's racial group. They had left their cards at home so they could play soccer and were thrown into jail. He's in his early 30s. By far the most jarring part of this trip was the constant realization that apartheid happened in everyone's lifetime. Every generation has a story to tell and every person has a vivid memory of South Africa 16 years ago. It's an unsettling experience to talk to someone your age about their memories of the Soweto uprising. We visited the Apartheid Museum and for each date on the wall I could recall how old I was and where I was in my life.
7) Craziest fans - Spain and Brazil
We encountered fans from all 32 World Cup nations, and by my scientific and well-researched standards, the most enthusiastic (i.e. insane) fans were the Brazil and Spain supporters. Brazil is an obvious one, they're the Yankees/Lakers/Cowboys of soccer. They have (originally bandwagon) fans from all over the world and have the strongest history as the only team to appear in every World Cup and with the most championships. It's a sheer numbers game, more fans = more crazy people. But then there's Spain, a team with zero World Cup championships (until now). Maybe it was the very real potential for that first championship that lit a fire under Spain fans, but they were at another level of fandom. We were lucky enough to get caught in the middle of a massive group of Espana fans outside the Spain vs. Portugal match, so I'll let you see for yourself.
8

(more…)